The mother cat will stimulate her kitten's elimination by licking his anus and genital area with her rough tongue, in other words, make the kitten poop. You can emulate this process with a warm, rough washcloth. It may take a couple of feedings to see results, so don't despair if he doesn't defecate right away. Urinating may take a bit longer.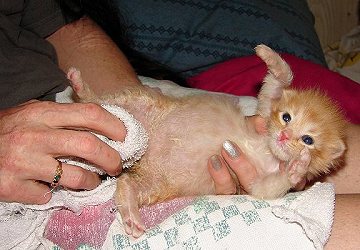 Normally, kittens will have a couple of firm, yellowish stools per day if they are being properly fed. Most kittens can control their own bowel movements at about 10 days old.
The skin area is very delicate and may become raw or sore from your efforts. If this happens, apply a tiny dab of Preparation H ointment to the affected area after each stimulation. Keep in mind that your kitten will probably not have a bowel movement every feeding, and sometimes even skip a day. This should be fine as long as the kitten is growing, eating well, not showing any signs of distress, and urinating.
Young kittens must be protected from disease!! ALWAYS wash your hands before and after handling the kittens, and ALWAYS clean and sterilize your bottles, nipples, brushes, or tube feeders in boiling water after each use!!
>>Return to Top<<
What does a loose and/or yellow stool mean? This would indicate a mild case of overfeeding. Try diluting the formula strength with liquid, unflavored Pedialyte by about 1/3 until the stool returns to normal, then gradually bring the formula back to full strength.
What does a loose and/or greenish color stool mean? This would be indicative that the food is moving too quickly through the kitten's system, and the bile is not being absorbed, and is probably attributed to moderate overfeeding. Cut the formula back with the Pedialyte or bottled water; in severe cases use 2 to 3 drops of Kaopectate every four hours until this problem clears up.
What about stools that look like cottage cheese? Either the formula strength is too rich, there is severe overfeeding, or the kitten may have a bacterial infection. Check with the shelter manager who may recommend that you cut the formula in half with bottled water and/or Pedialyte liquid, and start the kitten on antibiotics. If the kitten is seriously dehydrated, fluids can be given under the skin.
Constipated or straining kittens? In this case, you would want to increase the strength of the formula, and feed slightly smaller amounts, but feed more frequently. If the kitten has a swollen abdomen and hasn't passed a bowel movement in over a day, you may want to try mineral oil given by mouth (3 drops per ounce of body weight).
>>Return to Top<<
Bloody - Actual red blood seen in stool. Could indicate panleukepenia. Grossly abnormal, must be seen ASAP.
Mucous - yellowish/white/clear slimy substance. Indicates severe bowel irritation. Grossly abnormal and needs immediate care.
Black - True dark black color to stool. Usually indicates bleeding high in the bowel. Severe sign, needs immediate attention.
Brown - Normal color. Be happy!
Orange - Usually indicates way too much bile in stool, can occur with reflux.Seek medical advice.
Yellow - Almost always indicates bacterial imbalance in the bowel. If has diarrhea also, usually related to coccidia. Seek medical advice.
White - Grossly abnormal color, usually indicates, severe bacterial imbalance and severe infection in the bowel. Kitten at risk of dying, needs medical attention, ASAP.
>>Return to Top<<
Consistency:
Dry/hard - Abnormal, usually indicates dehydration. Seek care, promptly.
Firm - Normal, be happy.
Formed but soft - Low range of 'normal'. If stools change from firm to soft you should seek medical advice.
Toothpaste - Still has somewhat tubular form but falls apart once touched. Abnormal, needs medication.
Cow-patty - Never formed but thick enough it falls into a 'cow-patty' shape. Abnormal, animal is at significant risk and needs immediate attention.
Liquid - Just fluid that falls out of rectum, thin and may have mucous. Abnormal, animal is at severe risk and must be seen immediately.
The 'Squirts' - Animal has no control over bowel and watery fluid squirts out of rectum. Grossly abnormal, animal in danger of dying, must be seen immediately!
>>Return to Top<<
Red/Dark Orange - Severe sign. Severe at-risk, must be seen immediately.
Dark yellow/almost brown - Extreme dehydration or bilirubin in urine. Either way it's BAD! Needs immediate aggressive treatment.
Intense yellow - Concentrated urine. Animal is not getting enough fluid for total body hydration. Needs immediate care.
Yellow - Mildly concentrated urine. Monitor closely and if ANY other signs, seek care immediately.
Light yellow - Mildly diluted urine. Overall body hydration should be adequate if no kidney disease. With sick/injured or at-risk animals, this is the color we shoot for.
Pale yellow - Diluted urine. Hydration should be excellent if no kidney disease. With any significantly debilitated or severe risk animal, this is the color we shoot for. Be aware however of possible over-hydration and keep urine this color, only if under medical care.
Almost clear - Severely dilute urine. Risk of over-hydration. Urine should only be this diluted if under constant medical supervision.
>>Return to Top<<